Shelloloh Nail Art Tools Cuticle Oil Nail File Decoration False Nail Glue Remover Finger Separators Manicure
SHELLOLOH focus on nail innovations, taking quality as first priority, concentrate on pursuitting the service attitude of customer orientation. 
SHELLOLOH's products is meticulously researched and tested before it ever reaches the customer.
What we are pursuing is not only to paint your nail, but to light up your life from your fingers, like a rainbow, to illiminate your sky !
Thank you for choosing Shelloloh !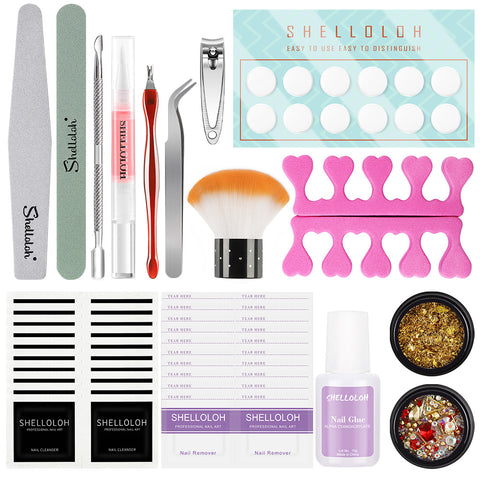 Package Include:
1 x Tweezers

2 x Finger Separators

1 x Cuticle Pusher

1 x Cuticle Fork

1 x Nail Cutter

1 x Polishing File

1 x Nail File

1 x Red Decoration Rhinestone Box

1 x Nail Decoration Golden Line

1 x 10g Glue

10 x Nail Cleaning Wipe

10 x Gel Polish Remover Foil Wraps

12 x Silicone Gel Polish Color Display Point

1 x Nail Brush

1 x Cuticle Oil