Shelloloh 7ml 6/8pc Kit Polish Nail Gel Soak Off Gel Nail Lamp Manicure Tools Set Nail Art Decoration Long Lasting Home Use
SHELLOLOH focus on nail innovations, taking quality as first priority, concentrate on pursuitting the service attitude of customer orientation. 
SHELLOLOH's products is meticulously researched and tested before it ever reaches the customer.
What we are pursuing is not only to paint your nail, but to light up your life from your fingers, like a rainbow, to illiminate your sky !
Thank you for choosing Shelloloh !
Product Including
6pc SET
1 x Nail Lamp
6 x Nail Gel
1 x Top Coat
1 x Base Coat
1 x Pink Nail File
1 x Thick Nail File
1 x Cuticle Fork
1 x Cuticle Pusher
1 x Nail Cutter
1 x Pair Nail Separators
1 x Nail Brush
1 x Rose Cuticle Oil
1 x Nail Polish Remover Pads
3 x Nail Sticker
1 x 12 Colors Of Nail Art Rhinestone
1 x 100Pcs Lint Free Nail Cleaner Wipe
1 x 6Pcs Nail Decoration Glitter Powder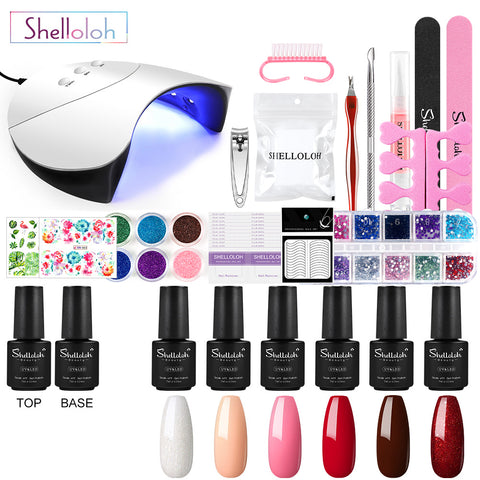 8pc SET
1 x Nail Lamp
8 x Nail Gel
1 x Top Coat
1 x Base Coat
3 x Nail File
1 x Cuticle Fork
1 x Cuticle Pusher
1 x Nail Cutter
1 x Jasmine Cuticle Oil
2 x Nail Separators
10 x Lint Free Nail Cleaner Wipe
1 x 10g Nail Glue
1 x Curved Tweezers
1 x Flat Bottom Nail Art Rhinestone
1 x Red Nail Rhinestone
10 x Nail Polish Remover Pads
1 x Pink Nail Brush
1 x Gel Polish Palette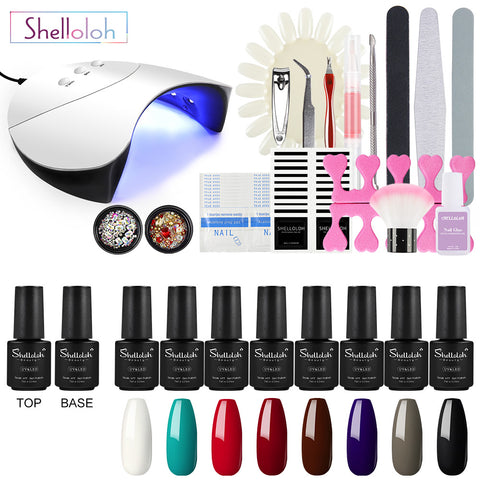 How to use
1.Remove the cuticle, trim the edge, polish your nails and make sure they are dry and clean
2.Apply base coat, cure with LED or UV lamp. It is normal for a base coat keep stick after curing
3.Apply the first layer and cure
4.Apply the second layer and cure. Apply the third layer if necessary
5.Apply top coat and cure
6.Wipe nails with rubbing alcohol to remove residue
Suitable for:
Our gel is suitable for any people of any age
Our gel is fashion and popular, can meet most of needs
It is a good choice for beginners or professional use to choose our gel
Our gel is easy to use and long lasting, suitable for most occasions
Note:
1.Keep the product out of reach of babies and children to avoid accidental eating
2.If allergies or adverse reactions occur, discountinue use immediately
3.Please keep it in a cool dry place, avoid direct sunlight