Shelloloh False Nails French 100pc/500pc Fake Nail Nature/Clear Nail Extension
SHELLOLOH focus on nail innovations, taking quality as first priority, concentrate on pursuitting the service attitude of customer orientation. 
SHELLOLOH's products is meticulously researched and tested before it ever reaches the customer.
What we are pursuing is not only to paint your nail, but to light up your life from your fingers, like a rainbow, to illiminate your sky !
Thank you for choosing Shelloloh !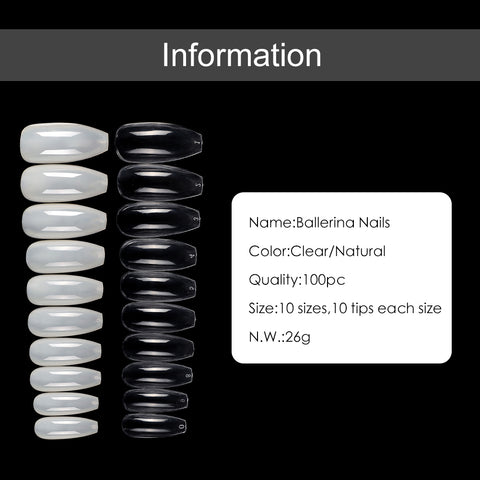 Specification:
Brand Name: SHELLOLOH

Materials: PC

Size: 10 different sizes in the set


Product type: False Nails
Description
- Easy to shape, file, paint and apply with gel, acrylic or fiberglass, making your tips magical and stylish.

- The nails are made with high quality PC material, which is sturdy and durable enough to last for a period of time.

- Healthy and friendly material, no smell and no toxic to your body or your nails, providing you a safe and comfortable nail doing experience.

- These strong fake nails are designed with clear color and French style with perfect length and thickness. You can wear them long or clip them short, or design your own style and pattern by adding nail art decorations.
Content:
500pc Nature: 500pc False Nail Color Nature.
500pc Clear: 500pc False Nail Color Clear.
100pc Nature: 100pc False Nail Color Nature.
100pc Clear: 100pc False Nail Color Clear.